Thailand's vibrant capital has been called everything from Asia's response to Manhattan to the adult Disneyland. Besides being home to more than 8 million people, Bangkok is well founded among the world's most visited cities. But to us – the encounter with this cosmopolitan anthill – was by no means love at first glance. Today we love the city and keep coming back. Here you will find our 13 best travel tips for how to make the most of your visit in Bangkok.
The first time we visited Bangkok we found the chaotic hustle terrible and suffocating. At the same time there was also something fascinating about the overwhelming bombardment of your senses – so we kept returning.
Today we have learned that the ultimate travel trip to Bangkok has to do with looking beyond all the chaos. Approach the city with soothing tranquility and lots of exploration thirst – and then you'll discover unique places, enjoy unforgettable experiences and taste wonderful food like no other place in the world.
We have collected the 13 best travel tips that we ourselves would have liked to have the first time we visited Bangkok.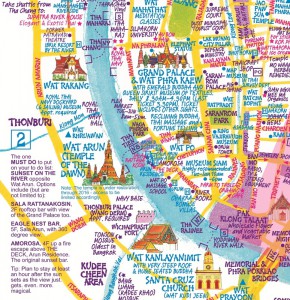 1. BEST MAP OF BANGKOK
The first tip is a direct order: Buy Nancy Chandler's map of Bangkok! You can compare Nancy Chandler with the school janitor, who knows each and every hook on the cadastral and has the A key that opens all the doors.
It is not a city map in the traditional sense. It is rather a hand-drawn illustration of the most popular areas – packed with concrete, useful and humorous descriptions of what to buy, taste and look at. For example, you can find where to experience Korean slapstick comedy, shop together with trendy Thai teenagers or buy rare books, Thai Christmas decorations and used military boots. You can buy the card on Amazon or on the website www.nancychandler.net
2. EAT WITH THE LOCALS
Bangkok's many street kitchens make the city a great simmering kettle of spicy aromas. Everywhere on the sidewalks, street corners and in narrow alleyways you can buy everything from deep fried insects to more classic noodles. Either made on a smoking hot wok clamped on a bicycle in the middle of the street, or in a small room decorated with cheap plastic chairs, wicker tables and fluorescent lamps in the attic.
Our best tip: If you want to taste the real Thai cuisine, taste it here. At the hotels and the tourist-friendly restaurants you get the food served 'farang-style' – it is the Thai expression for food adapted to Westerners' delicate taste buds. Gone are juice, power and chili. In short, the taste of Thai food.
The beauty of Bangkok is found when you look beyond chaos. Approach the city with lofty tranquility and lots of exploration lust.
So escape your fear of the unknown, the somewhat dingy – and of getting a stomach bug. Ask the locals or check out where they are having their meals, and you are guarantied to get great Thai food. Also the food will be much cheaper. Bon appetite!
3. THE THIRD BIGGEST WEEKEND MARKET IN THE WOLRD
Try to plan your visit in Bangkok during a weekend. As the huge "Chatuchak Market", also called "Jatujak" is open in weekends. The market has over 8,000 stands, divided by 27 categories and visited by 200,000 Thai people and tourists. It's so big that you can drive around with a bus between the main areas, and you can buy anything from traditional crafts, clothes by upcoming designers and classic copycats to spices, puppies and potted plants – in short – EVERYTHING.
Our best tips: Arrive early, take some time to take breaks and bring cash. It's impossible to see everything, so make use of Nancy Chandler's amazing card to create an overview and plan for the day. Info on Bangkok's weekend market
4. MOST SACRED IN BANGKOK
To leave Bangkok without having seen the royal palace Grand Palace and the nearby Wat Phra Kaew temple, is like leaving Paris without seeing the Eiffel Tower and Notre Dame.
But why visit the city's largest tourist magnet when there are more than 400 temples? Because only here you can be touched by the extent of impressive architecture, detail and special atmosphere of mystery and awe that permeates the place. It (almost) makes you forget the crowd of people.
Our best tips: Get up crazy early before the other tourists get shoes on and the sun turns the place into a baking oven. Remember to wear long pants and sleeves or alternatively cover yourself with a cloth, which is required by all visitors.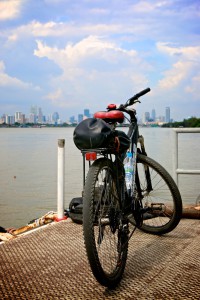 5. ON TWO WHEELS THROUGH BANGKOK
YES, it sounds like suicide to experience Bangkok from a bicycle saddle. But a trip on two wheels through the massive city reveals a side of the vibrant capital, which we personally did not believe existed.
Discover small, quiet and cozy streets where the birds sing, the flowers spreads their perfume and the laundry hangs out to dry in an air that is not so thick of smog that it can be cut into slices. Roll through lush green parks, past beautiful ancient temples and stop at schoolyards to greet curious schoolchildren.
Our best tip : Just do it! We know that it sounds completely brainless to ride around Bangkok. But if you want to experience the true authentic Bangkok – then you have to ride a bike. You can read more about our bike ride here.
6. DRINKS WITH A VIEW
After a long day absorbed by the cuddling life of the streets, it's time to relax and see it all a bit from above. Namely from one of the spectacular bars you'll find on top of the city's sky-high skyscrapers.
Our best tip: Arrive around twilight and see the transformation from day to night as the city transforms into a magical inferno of neon, car beams and electric lights. The Travel Agency Condé Nast Traveler has made a list of Bangkok's six best rooftop bars.
7. SHOP AMOK
Bangkok is a shopping paradise with its huge shopping centers, many markets and neighborhoods like China Town. With Nancy Chandler's map of the city you can get an overview of what you can buy at the different places.
Our best tip: Shop through Siam Square. It is an area where there are lots of small shops and eateries in the streets. And if that does not satisfy your credit card, you can easily continue the adventure in the surrounding shopping centers. They are quite handy placed next to each other and are connected by a so-called Skywalk, which is a sidewalk crossing the multi-lane roads, so you do not have to fight through the massive traffic. Here you will find Mah Boon Krong Center (MBK), Central World and the popular Siam Paragon, where the rich Thai people hang out and you can also enjoy a 4D movie. Yes 4D.
8. RELOAD WITH MASSAGE
As a tourist, you can easily walk for hours in the heat. Take care of your feet. They will be swollen, heavy and tired.
Our best tip: Take one hour off for a lazy round of Thai massage of the feet – or perhaps the entire body. It's cheap and the ultimate best way to reload your tourist batteries. Ask your hotel which masseur they can recommend. Alternatively, go to the backpacker block Khao San Road, which is the perfect place for 'people watching'. Sit back in one of the big soft armchairs and enjoy the sight of street life while massaging new energy into your feet.
9. THAI BOXING
The sound of powerful and fast strokes against naked skin is accompanied by exited shouts from the audience and snappish tones from an obo-like instrument. Inside the boxing ring, a rain of hard-knuckling knees, elbows and fists pours down on the fighters while sweat and blood fly through the air. Thai boxing is not for delicate souls, but a great sensual experience.
Our best tip: Check when there is fight night at Lumphini Stadium, which is Bangkok's largest and most popular. Buy tickets close to the ring – it makes the experience more … intense.
10. SAIL ON THE CHANNELS
It may feel completely impossible to see Bangkok for … Bangkok. The city is so big that it can hardly accommodate itself. Therefore, it's an experience to get away from the streets and see it all from a distance.
Our best tip: Hop on board one of the many boats sailing in the canals. There are several types of boats and services – the river express, taxis, longtails and ferries. Some stop only at the larger quays, others only cross the river, and boats for hire to sail you exactly where you want to go. Here you can find info about the most popular moles from which you can sail.
11. FIND YOUR WAY AROUND THE STREETS
Navigating the labyrinth and densely populated streets of Bangkok can be a challenge that can put even the most experienced travelers in shock.
In addition, the Thai people are what can be called city-map illiterate and at the same time very eager to help, which can easily lead to many misunderstandings. Thais would rather help you than admit that they actually do not know where to go – and soon you're moving in the wrong direction. Nor does it make the situation better that Bangkok's streets have two widely different names – one in English and one in Thai. And the Thai people rarely know it in English.
Our best tips: Find a good city map, where you can get an overview of even the smaller streets. At first glance, the map can look a bit unimaginable, as Bangkok has a special street system. But fortunately it is quite logical. Take, for example, the city's longest street, Sukhumvit Road, which is called Thanon Sukhumwit in Thai. Along the road side streets Sukhumvit Soi 1, Soi 2, Soi 3, etc. run. On one hand, side streets run evenly, on the other odd numbers. The side streets are also called Sub-Soi's.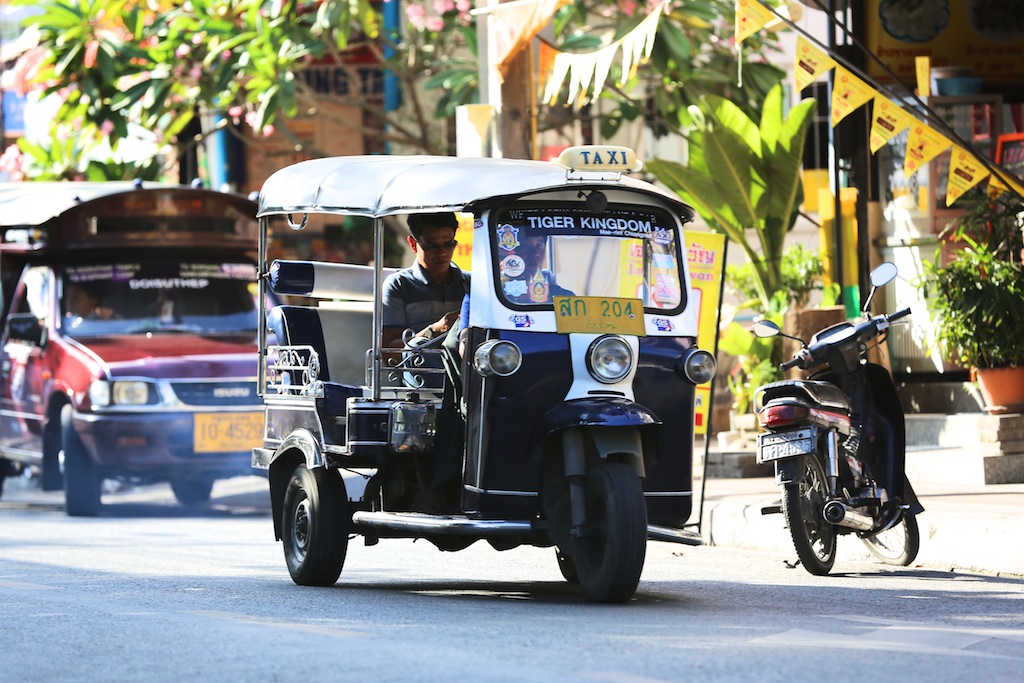 12. TRANSPORT FROM A TO B
Traffic prevails unbeaten in the streets of Bangkok. And as a tourist you can get around with various motorized vehicles – both two-, three- and four-wheeled. As a first-time visitor you will probably voluntarily jump in one of the three-wheeled motorcycles, also called tuk-tuks – have to try it right! Or you will be lured by a driver's great offer, which involves a couple of involuntary stops at a number of shops with various rubbish.
Our best tip: Save a tuk-tuk trip until you get out of town. Firstly you will avoid being cheated. Secondly, your lungs will thank you. Bangkok is polluted and roaring hot. It's a bad comb when you're suddenly locked in a traffic jam on a five-lane highway. Instead, take one of the city's 70,000 taxis with air conditioning and taximeter. Never ask for the price, but arrange a price in advance or ask to have the taximeter switched on.
Alternatively, you can benefit from Bangkok's well-functioning metro systems. There are two different – Skytrain (BTS) and Underground (MRT).
13. THE ART OF GETTING LOST
Finally: The most amazing thing about Bangkok is that it is inexhaustible, constantly changing and huge! There is always something new to experience and discover. A new place to eat, sleep, shop, hang out …
Our best tip: Only use our guide as a basis. Let loose and go wherever the city brings you.
– – – –
Have you been to Bangkok?