Vietnam's largest city stands out from the rest of the country with its fascinating contrasts. Vietnamese culture and modern business life live side by side in the vibrant streets of the city, where classic French buildings are reflected in the glass of modern skyscrapers. Ho Chi Minh City is Asia's version of New York – and we loved it!
We visited Ho Chi Minh City on Christmas Day 2016 and had decided that the mega polis was to be our Christmas gift to each other. The roasted pork was to be replaced with Vietnamese delicacies and the dance around the Christmas tree performed in the form of city walking and sightseeing. Allow me to say that: it's still one of the best Christmas presents I've ever got.
Before we traveled to Vietnam, we had heard different opinions about Ho Chi Minh City. People's opinions seemed to be based on whether they liked Hanoi or 'HCMC' more – a popular shortening of the city's name. But since we have not been in the Vietnamese capital of Hanoi, we cannot compare the two. I can only conclude that Ho Chi Minh City is now one of our favorites in Southeast Asia!
5 COOL EXPERIENCES
Therefore, we have collected a handful of our custom tailored tips for what to see and experience in the city. And soon our travel tips to the best place to stay will follow as well as where to find some of the city's most delicious restaurants. Stay tuned!
1. SAIGON – THE HISTORIC CENTER
To us, the greatest experience was strolling around the old city center, also called Saigon or Downtown. Looking at a map you will find it marked as District 1 – and in Lonely Planet they call the area for ​​"Dong Khoi Area", which is the city's main shopping street. Here you will find the district that the French settlers established in the mid 1800s. Today they have left the country, but their presence is still visible through the architecture.
Around the city you will find wide boulevards and over 100 years old French buildings, which with their colonial architecture stand out in between shattered buildings, polished skyscrapers and large shopping malls. Most famous is the Main Post Office, the Notre Dame Cathedral, the Opera House and the former town hall, which today has become the People's Committee House.
You can wander Saigon city center on a good day, but spend two or three days in town, so you have some time to eat through just a few of the many fantastic restaurants, visit some of the city's most famous attractions – and, simply, just ponder on life in the pulsating streets.
OUR BEST TIP:
We especially loved to zig-zagge around the streets located in a shape of triangle if you draw a line between: Me Linh Square at the Saigon River – Ben Thanh Market at the end of 23-9 Park and Main Post Office / Notre Dame, located right next to each other. And if you want a more intense experience of street life, you can visit the backpacker neighborhood, which sprays a spider web of tiny alleys out between the streets of Pham Ngu Lao and Bui Vien. Here you will also find plenty of bars, restaurants and shops. The neighborhood is also known as "Khu Pho Tay".

2. TRAFFIC-FREE PEDESTRIAN STREET
Boulevard Nguyen Hue is a central and popular gathering place in HCMC. The short 1 mile long and very wide promenade is referred to as Saigon's first pedestrian street and has a stunning 360-degree view of the surrounding buildings. Here, both locals and tourists gather together in the evenings, in the weekend and at special festivals, where the two lanes on either side of the boulevard are closed for traffic.
It may feel like everyone is waiting for a big rock concert to start when you sneak through the crowd – and in the eyes of many people there is also one very special star that always occurs on the boulevard. In front of the People's Committee House, in the northwestern end of the boulevard, there is a statue of Ho Chi Minh – the idealist and revolutionary leader who devoted his life to Vietnam's independence and the struggle for social justice.
OUR BEST TIP:
The vibrant city life around the boulevard is also a fascinating sight seen from above. Reward yourself to a cold drink at the bar, "Broma", located on top of a tall building overlooking the street as well as some of the city's most characteristic skyscrapers. Bitexco Financial Tower. Arrive just around twilight and observe the transformation as the city puts on its black cocktail dress, decked with sparkling lights and flashing neon. "Cheers, Saigon – Your Lovely Lady!"
3. SELFIE-GENERATION STREET SHOW
The classical buildings will surely make the heart of any romantic historian beat faster. They give Vietnam's most European city a very special atmosphere. Another fantastic detail was the wide and tiled pavements – a rare delight among many Southeast Asian metropolitan areas, as you can look up as you walk and watch the urban life.
Ehm … Are the pavements big enough for you to dance Gangnam style, you ask? Yes, I think so, that should be possible! And no, you will not stand out if you dance in front of the old French buildings. For here you will find bridesmaids in elaborate "strike-a-pose" in front of a team of photographers, makeup artists and stylists in the process of creating the frontpage of a Vietnamese Vogue. And next to the future married couples, a forest of selfie sticks attempts to perpetuate the owner's kissing mouth, big smile, friendship portrait or spectacular jumps. So remember to bring a to-go coffee, find a soothing area of shadow and enjoy the show. This is 'people watching' when it's best!
OUR BEST TIP:
The Vietnamese rarely speak English very well, but they are experts in selfies. So if you want to socialize with the locals, through a language you both understand, simply do a 'photo bomb'. To our surprise you will be anything but unpopular – instead, you will immediately be arranged to be in the picture. Through mimic and hands you are asked to pose for the camera with them. I immediately became very addicted to this discipline: Martin had to hold a firm grip in my arm when we passed a selfie session. "Say Cheese, Saigoneer!"

4. MUST DO MUSEUMS
With only 160 years of history, Saigon is a relatively young city, and the story does not fill much if you compare with the capital of Hanoi, founded over 1000 years ago. Nevertheless, Saigon's most interesting attractions are historic and deal with the horrific events surrounding the Vietnam War. It sounds gloomy and it is. But it is both fascinating and educational to walk in the footsteps of the past and stand in the same places where historical people have experienced moments that have echoed through world history.
We were not really strong in the history of the Vietnam War beforehand, but after a visit to the War Museum and the Presidential Palace (also known as the Independence Palace or Reunification Palace) we suddenly began to sequence the line of information and understand what actually happened – and the experience crawled well under our skin. In particular, the War Museum's collection of photographs taken by American photojournalists during the Vietnam War affected me so much that I had to leave the exhibition without having seen it all.
OUR BEST TIP:
Both the War Museum and the Presidential Palace are popular attractions, so try to arrive either at the very start or end of the day, where the amount of tourists are tolerable. And remember that the museums are closed in the middle of the day. Check out opening hours before standing in line – and remember to bring a bottle of water.
5. SHOP AMOK
Any Visa Card will either tremble with fear or lick its mouth, depending on the owner's financial capabilities as it moves into Vietnam's largest city. Shopping in Saigon can quickly become a full-time job if you are heading for the city's many shopping malls, designer stores and markets, located primarily on and around the streets of Dong Khoi, Le Thanh Ton, Le Loi and Nguyen Hue in the old city.
The major shopping malls have polished floors, aircondition-cooled temperatures, styled concept stores and international brands like any other modern and commercial shopping malls in Asia. The biggest experience for us was therefore treasure hunting in the small designer stores selling boutique designs, trendy souvenirs , traditional crafts and chic items, such as T-shirts, posters and coffee cups with recognizable Vietnamese propaganda motifs.
Some items you can get at a fraction of what they cost at home – and other things like well-known brand and luxury brands, you will often only find a little cheaper. For example, we bought a pair of Nike shoes, where we only saved approx. 10% compared to if we had bought them in a Danish shop. ( And Denmark is extremely expensive!)
OUR BEST TIP:
We didn't have time to visit all of the shops that we would have liked to – but we can recommend Saigon Kitch (43 Ton That Thiep) and L'Usine (151 Dong Khoi + 70 Le Loi) who also have a delicious cafe. In addition, the tourist magnet Ben Thanh Market is always a fun and sensible experience, as this is where the locals buy their fresh food. The market is in a large hall that is open from kl. 06-18, and after 17 a clock the streets are transformed into a lively night market with cheap stuff and small food stalls.
Bonus info: If you use above size 40 in shoes, it may be a challenge to find a shoe that fits. However, you might get lucky if you look at International Brand Stores.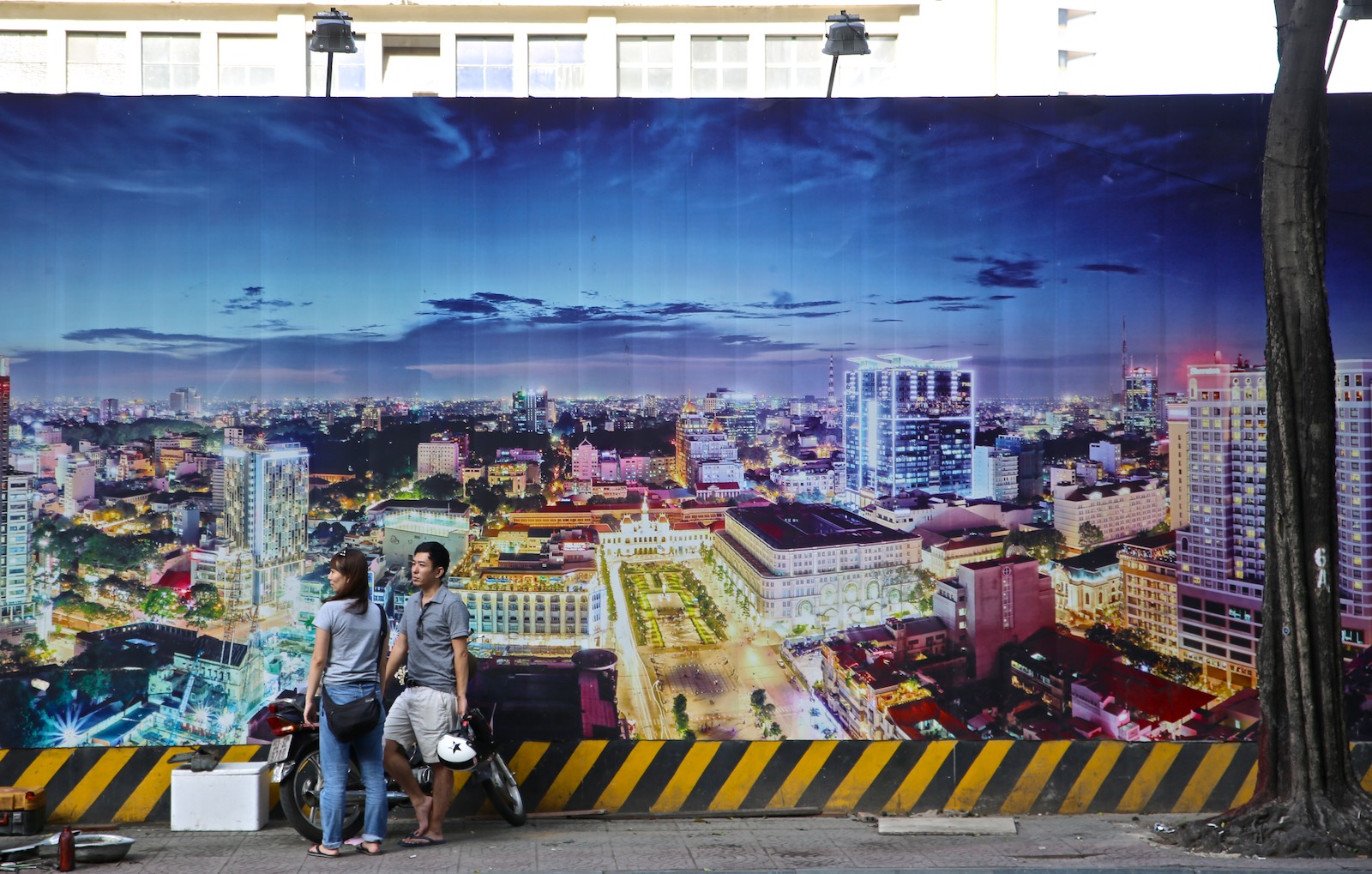 MORE INFO ABOUT SAIGON / HCMC
There are a million things to do in Ho Chi Minh City! So when we come back one day (we will for sure!) we will check out these travel blogs and guidebooks, that reaches even deeper into the heart of the city, know the 'secret places' and have good suggestions as to what You can also see and experience:

– – – –
Did you find our tips useful?
Have you been to the city and can add something to the list?