With more than 7.000 islands the Philippines is 'Mission Impossible' if you only have a couple of weeks of vacation. When we started planning a round trip we quickly realized that it would be impossible to visit all the islands that we wanted to experience! We therefore decided to start the trip on the most beautiful island and then improvise the rest of the journey. Here we have described how our route through the many islands ended up being.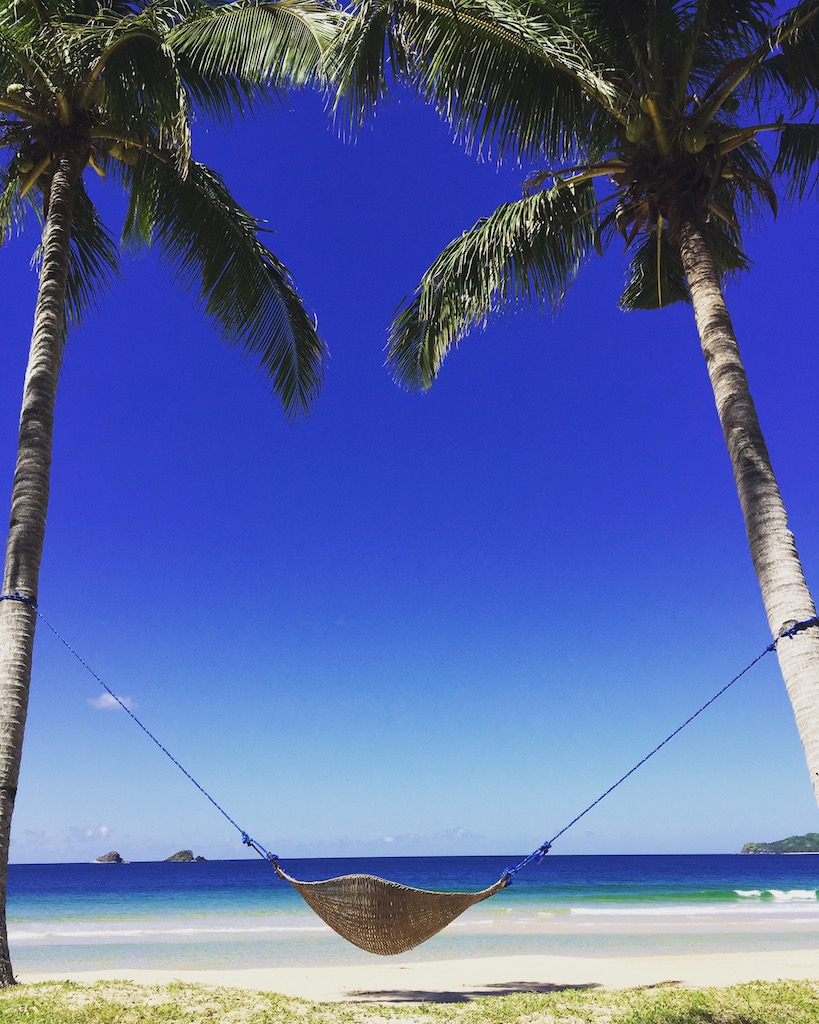 For many years the Philippines has been one of our dream destinations. And that's probably why we were a bit too ambitious as we started planning a four-week trip during Christmas in 2015 to the world's second largest Archipelago. Well equipped with guidebooks, travel blogs and a long e-mail with recommendations from a flight captain who has lived in the Philippines for several years, we started developing the ultimate round trip.
We wanted to start in the north to explore the world-famous rice fields, wander on volcanoes and visit historic villages. Next we planned to go south to visit the many beaches. But how do you know which Pilipino islands to visit when there are no less than 7.107 of them. Seven thousand-one-hundred-and-seven ?!
You do not need an abacus to calculate that four weeks and 7.107 islands will never add up. On top of that the somewhat primitive infrastructure would quickly extend even a short trip to several hours. So what do you do? You promise each other to return someday and skip the journey to the north and then you investigate:
WHICH ISLANDS IN THE PHILIPPINES
ARE THE MOST BEAUTIFUL?
WORLD CLASS ISLAND HOPPING AT PALAWAN
The answer is Palawan. You don't need to google for long before you realize that the most western island of the Philippines is on pretty much all Top 10 lists of the most beautiful Islands in the world.  We therefore booked a direct flight from Manila to El Nido, located at the north tip of Palawan and is the starting point for experiencing the highly praised Bacuit Archipelago.
→ Book flights from Manila to El Nido
Without getting lost in superlatives, we can with composure report that it really is one of the most beautiful places in the world. We would have liked to extend our stay but all hotels were booked several weeks in advance when we were there in the middle of the Christmas holidays. Doohh! Be sure to book in good time if you want to visit Palawan in high season.
→ Travel Guide: Where to stay in Palawan

THE DIVING PARADISE OF MALAPASCUA
We therefore proceeded from El Nido to Cebu. Here we took a single night in Cebu City to experience the Philippines's second largest city before heading up to the north tip where the tiny island of Malapascua is half an hour's boat trip from the coast. Malapascua is especially known for being the place where you can dive with the rare thresher sharks – but also for being among the islands most affected by the typhoon in 2013. There are still visible traces of the horrors, but the island is on its feet again. It's a great place for combining diving and relaxation with lots of island atmosphere.
THE LOCAL LIFE OF BANTAYAN
Next we booked a local boatman to sail us from Malapascua to Bantayan – located west of Cebu's northern tip. We were tempted by the description "considered to be like Boracay in the 80s". Boracay is the most famous beach paradise of the Philippines – at least before it was taken over by mass tourism. The southern beaches of Bantayan are not without quality but after experiencing the archipelago of Palawan we must admit that it was hard to get exited.
On the other hand, the local and very peaceful life of Bantayan impressed both of us. The very few tourists make a visit to the island an authentic adventure. We rented a scooter and drove around to visit the small towns, see the fishermen at work and shop in local markets.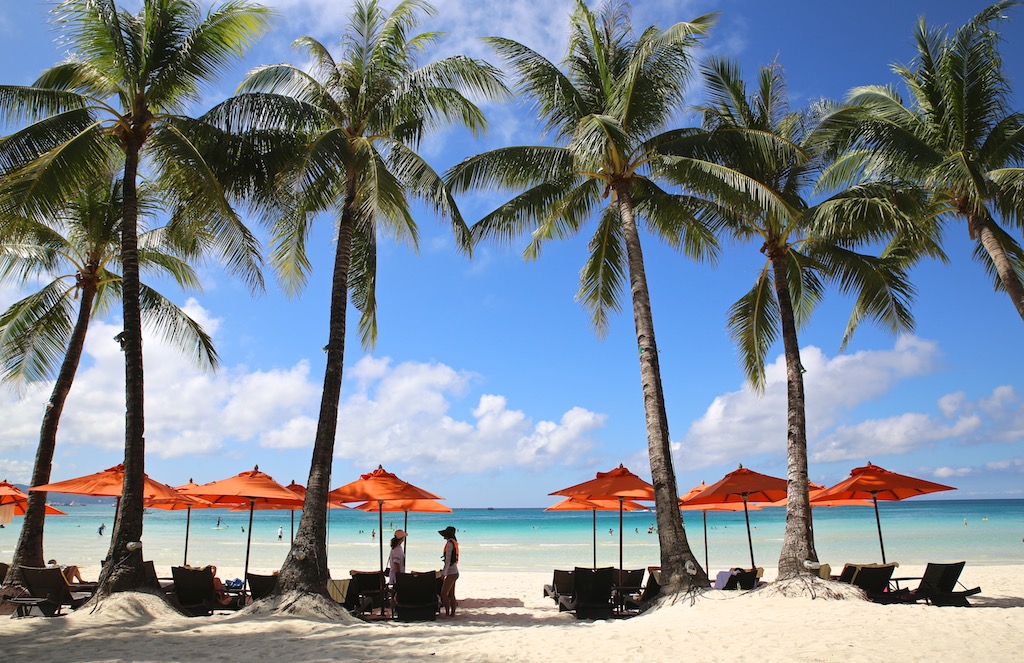 LEGENDARY BORACAY
Before going to the Philippines we thought a lot of about whether we should visit the most famous tourist attraction of the country: Boracay. The rumor is that the paradise island has drowned in its own success and is flooded by tourists. At the same time – the 4 kilometer long beach of the island – "White Beach" – keeps getting awarded as the most beautiful beach in the world.  Visiting the Philippines without seeing "White Beach" seems like visiting Paris without seeing the Eiffel Tower!
After Bantayan we therefore made a quick decision and booked a flight from Cebu to Caticlan, located at the northern tip of Boracay's neighboring island.  Here we joined a stream of other tourists going to Boracay. And hallelujah – the first sight of "White Beach" literally made our jaws drop with bang. Yes, there are many tourists – and yes, it's a circus. But despite all that (!) Boracay's famous beach is the most beautiful we have ever seen.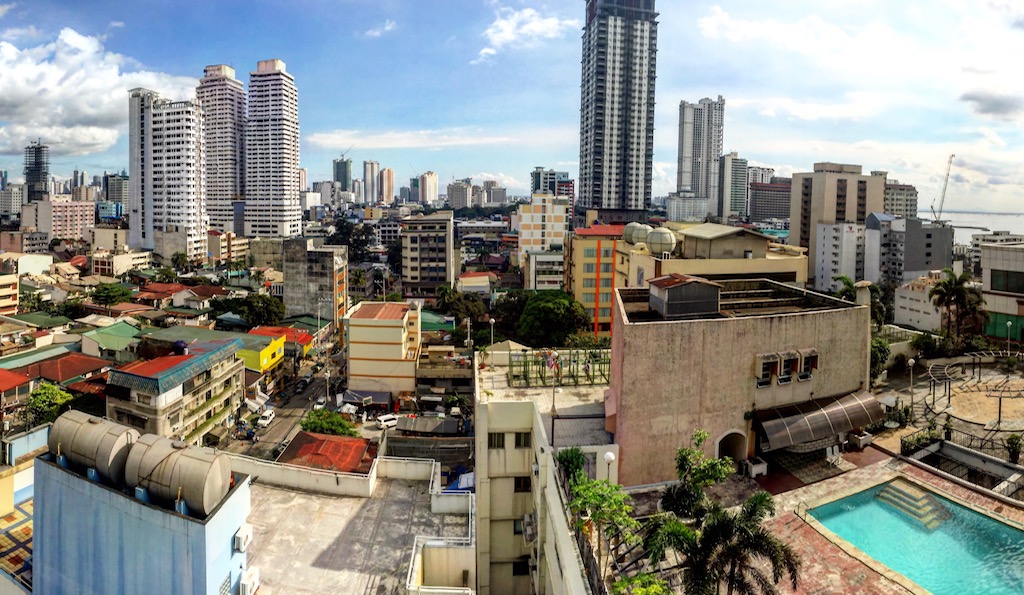 MANILA THE MEGACITY
With a full tank of paradise and a few days to spare before departure we flew back to Manila. We had heard nothing good about the world's most populated city, but despite many recommendations about spending time on everything else, we were curious to experience Manila with our own eyes and feet. And we are really glad we did. In fact, we were sad that we only had two days to explore the city – we could have used twice as much time.
As a tourist destination Manila is obviously avoided for a reason, but if you have visited other major cities in Asia, you will not feel the big difference. In all big cities of Asia you have to take precaution and act with care. Having said that, Manila is an interesting city that offers many exciting experiences, delicious food and historic districts worth exploring by foot. More about that later, because we really want to praise Manila and suggest others to give it a try if you're feeling adventurous.

ALL OVER AGAIN?
It's a classic that once you've got home from a trip – you know exactly how to put the trip together if you could do it all over again. And we would probably start with the part that we left out – the northern part with rice fields and volcanoes and instead exclude Cebu, Malapascua and Bantayan.
Then we would go to Palawan and add the neighboring island of Coron, from where you can take a seaplane going straight to Boracay a couple of times a week – we have always wanted to try a seaplane. At Boracay we would dwell in the mix of luxury, relaxation and paradise beach before heading for Manila to experience the city life, history and culture.
One thing is for sure: We will definitely travel back to the Philippines one day! So if you have any good tips for places not to miss next time – we would be very appreciative of your ideas in a survey below. Thanks ?